OPEN LESSON / ВІДКРИТИЙ УРОК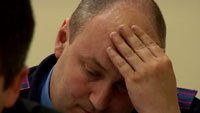 14 min.
Script and director: Natalia Mashtaler
Director

of photography
: Oleksandr Mashtaler
Editor: Oleksandr Buzko
The country was waiting and was afraid of EURO – 2012 "She" tried to be ready as hard as she could and as she understood. But will they become a lesson for Ukraine these events in summer days in 2012?

Natalia Iegorova
Graduated from Kyiv Institute of Screen Arts. Worked as a director, author, jurnalist and presenter at the Vinnitsa regional TV company. Take part in the Polish-Ukrainian Project-Workshop "Peace from dawn to dusk".