FANSONE / ФАНЗОНА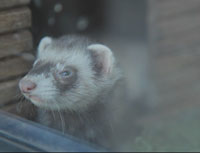 11 min.
Script and director: Dmytro Konovalov
Director of photography: Dmytro Konovalov
Editor: Oleksandr Buzko
This is a story how championship Euro 2012 burst into quiet and a little sleepy life of the inhabitant of the Kharkiv zoo - ferret Fred. Every day Fred was taken to fansone and two bowls with delicious meals were put in front of him. But when he tried to taste… immediately he was lifted up and everybody shouted FRED!

Dmytro Konovalov
was born in 1976 in Kharkiv, Ukraine. PhD in Philosophical Anthropology.
"Kharkiv" – director, 10 min. 2009 – special award of Film, Art & Tourism Festival in Warsaw