A STEP TO EVENT / КРОК ДО СВЯТА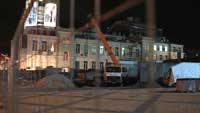 14 min.
Script and director: Polina Kelm
Director of photography: Dyana Olyfyrova
Editor: Oleksandr Buzko
Republican stadium in Kiev will become the main place in the country during Euro 2012. At the same time there will work a theater of operetta. Its director has decided to compete with Euro and present a fabulous show "Welcome to Ukraine or Journey to love". This perfomance is supposed to become a visit card of Ukraine.

Polina Kelm

Graduated from Kyiv National I.K. Karpenko-Kary Theatre, Cinema and TV University, director of feature film department. The Rain script won Best Script prize at The Internatiional Students Film Festival "Prolog" (Ukraine 2005); "The House" film won The Special Prize of the "Cinema" Young Cinematoraphers Centre at the International Students Film Festival "Start" IV (Baku, Azerbaijan, 2007)
"La Belochka"(10'00"; b/w, 2005); "The House" 8'26", 35 mm, b/w 2006; "FRO" 15', 35 mm, color, 2010; "The Rain" 20'00, 35 mm, color, 2011